Dodge Journey: Switch, defogger, rear
DESCRIPTION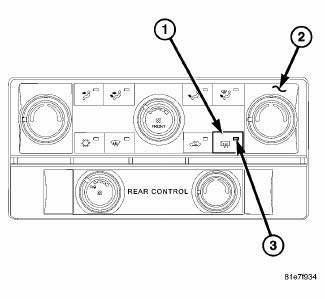 Fig. 5: EBL Switch (MTC)
NOTE: Manual tri-zone temperature A/C-heater control shown in illustration. Other A/Cheater controls similar.
The momentary push-button switch (1) for the rear window defogger (EBL) system is located in the A/C-heater control (2) in the center of the instrument panel. An amber indicator (3) will illuminate to indicate when the EBL system is turned on.
OPERATION
An amber indicator will illuminate when the rear window defogger switch is activated. When activated, the switch sends a request signal to the totally integrated power module (TIPM) to energize the internal EBL high side driver to provide battery current to the rear window defogger grid lines and to the heated side view mirrors, when equipped.
NOTE: The EBL system turns off automatically after 10 minutes of initial operation.

Each following activation cycle of the EBL system will last 5 minutes.
The rear window defogger switch is diagnosed using a scan tool. The rear window defogger switch and indicator cannot be adjusted or repaired. The A/C-heater control must be replaced if the rear window defogger switch or indicator is inoperative or damaged.