Dodge Journey: Amplifier
DESCRIPTION
The optional premium speaker system includes a separate audio power amplifier. The amplifier is an eight channel unit. The amplifier is located behind the right cowl trim panel.
OPERATION
The power amplifier electronically increases the frequency response of the normal audio signal output from the radio amplifier in order to improve the acoustic performance of the speakers. On vehicles equipped with an amplifier, the amplifier information of the radio becomes a pre-amplifier.
The amplifier receives audio signal inputs for speaker channels from the radio, then sends amplified audio outputs through eight separate channels with dedicated feed and return circuits to the individual speakers.
REMOVAL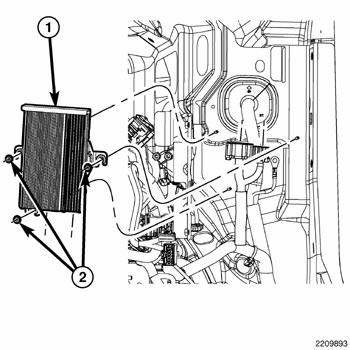 Fig. 1: Amplifier
1. Disconnect and isolate the battery negative cable.
2. Lower the glove box as necessary to gain access to the amplifier.
3. Disconnect the electrical connectors.
4. Loosen the mounting fasteners and remove the amplifier and bracket.
5. Remove the amplifier from the bracket.
INSTALLATION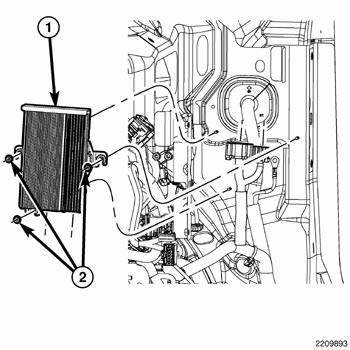 Fig. 2: Amplifier
1. Install the amplifier to the mounting bracket.
2. Install amplifier. Tighten the forward screw to 3 N.m (26.5 in. lbs.) and the rear nut to 2 N.m (18 in. lbs.).
3. Connect the electrical connectors.
4. Raise the glove box.
5. Connect the battery negative cable.