Dodge Journey: STORAGE
Instrument Panel Storage Compartment — If Equipped
Press and release the button on the door to open it. The door swings upward to allow easy access to the compartment.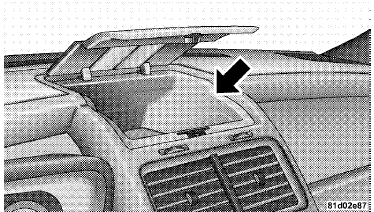 Instrument Panel Storage Compartment
Console Storage
Open storage areas, or cubby bins, are located in the floor console and center console.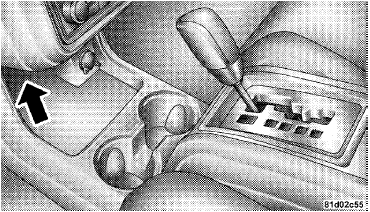 Floor Console Cubby Bin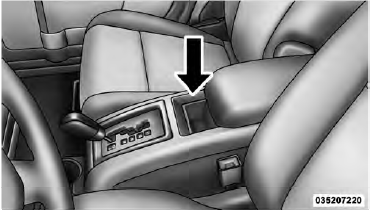 Center Console Cubby Bin
There is additional storage under the center console armrest. Pull upward on the release lever, located on the front of the lid.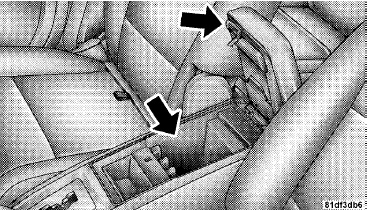 Center Console Storage Bin
NOTE: The sliding armrest (if equipped) must be in the rearward position to access the release button on the front of the bin door.
Flip 'n Stow™ Front Passenger Seat Storage — If Equipped
The seat latch release-loop is located in the center of the seat cushion between the seat cushion and the seatback.
Pull the loop upward to release the latch and then forward to open the seat to the detent position.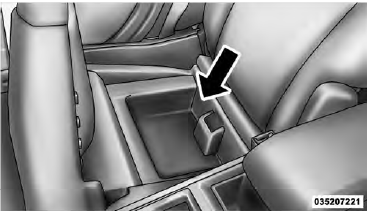 Front Passenger Seat Storage Compartment
NOTE: Make sure that objects inside the bin do not interfere with the latch before closing the seat. Push the seat cushion downward after closing it to make sure it latches to the base.
WARNING:
Be certain that the seat cushion is locked securely into position before using the seat. Otherwise, the seat will not provide the proper stability for passengers.
An improperly latched seat cushion could cause serious injury.
Second-Row Passenger Seat Temporary Storage Bin
This is a temporary storage bin designed for use when the seatback/armrest is down. Be sure to remove all items from this bin before raising the seatback/armrest.

Armrest Cubby Bin
Second-Row Map Pocket and Grocery Retainers — If Equipped
A map storage pocket and grocery retainers are located on the back of the drivers seatback.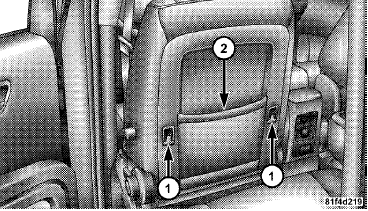 1 — Grocery Retainers.
2 — Map Storage.
In-Floor Storage Bin with Removable Liner
NOTE: Position the front seat to at least a mid-track position to provide easier access to the storage bin.
An in-floor storage bin is located behind each front seat.
Each 1.6 gal (5.9 l) bin can hold up to 12, 12 oz (0.35 l) cans, plus ice, or other items. The removable bin liner allows for easy filling, emptying, and cleaning.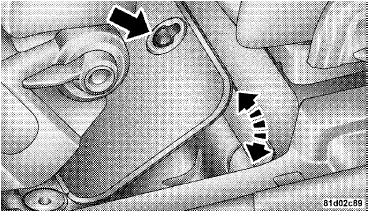 In-Floor Storage Bin
To access the bin, position the floor mat aside (if equipped). Pull the door latch release-loop upward to release the latch and then forward to open the bin door.
The liner can be removed for easy cleaning by lifting on the notches as shown.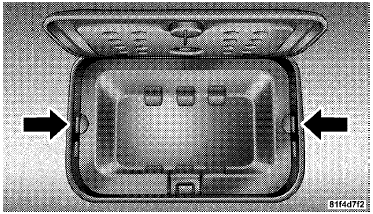 Removable Liner