Dodge Journey: Description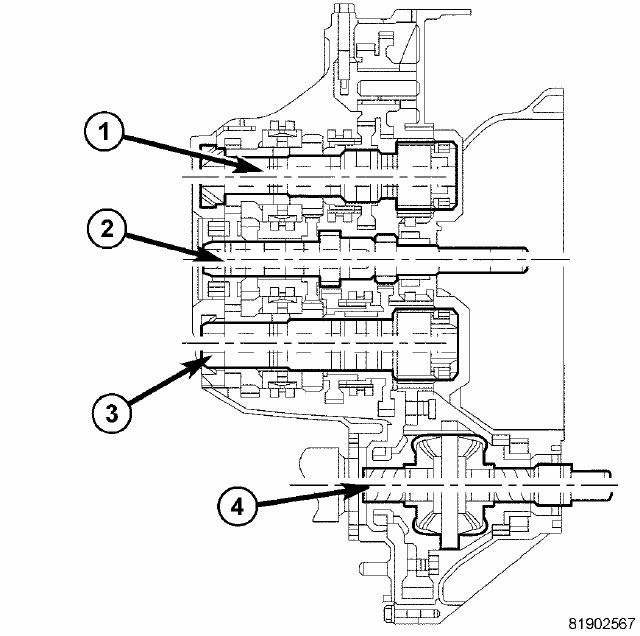 Fig. 1: BG6 Manual Transaxle
- OUTPUT SHAFT #2
- INPUT SHAFT
- OUTPUT SHAFT #1
- DIFFERENTIAL
The Aisin BG 6 6-speed transaxle is a constant-mesh transaxle that is synchronized in all gear ranges.
The BG 6 transaxle is a three-shaft design, as opposed to the more common two shaft configuration, to reduce overall length of the unit for easier packaging in the vehicle. The extra shaft is an output shaft. Ratios 1-4 are on one output shaft (2); ratios 5, 6 and Reverse are on the second shaft (1). Each output shaft has a different final drive ratio, which is also different from most transaxles. All ratios are synchronized.
Synchronizers are mounted on the output shafts (1, 3) to reduce the size of the transaxle. Triple-cone synchronizers on 1st through 3rd and dual-cone synchronizers 4th and 5th gears ensure that the rotating masses of gears, shafts and the clutch disc can accelerate quickly for fast, smooth shifting.
The four-plane shift mechanism is cable operated and incorporates a pull-up ring on the shift lever that must be lifted to engage Reverse. This prevents unintentional selection of Reverse when attempting to select 1st gear.
Rubber isolation of the shift system at the transaxle minimizes noise carried along the cables to the car's interior.
GEAR RATIOS