Dodge Journey: Description, Diagnosis and Testing
DESCRIPTION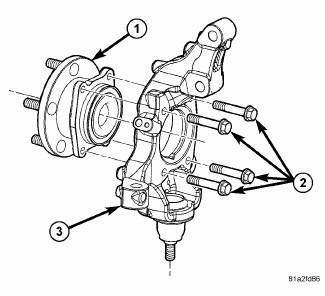 Fig. 38: Front Hub And Bearing Mounting
The knuckle (3) is a single casting with legs machined for attachment to the front strut assembly on the top and steering linkage on the trailing end. A ball joint is located on the bottom of the knuckle which attaches to the lower control arm. The knuckle also has two machined, drilled legs on the leading end casting to support and align the front disc brake caliper adapter.
The knuckle supports the hub and bearing (1). A shield (not shown in illustration) is fastened to the knuckle.
Diagnosis and Testing
KNUCKLE
The front suspension knuckle is not a repairable component of the front suspension. It must be replaced if found to be damaged in any way. If it is determined that the knuckle is bent when servicing the vehicle, no attempt is to be made to straighten the knuckle.
Inspect the lower ball joint per the inspection procedure in this Service Information . The lower ball joint can be replaced separately from the knuckle.