Dodge Journey: Installation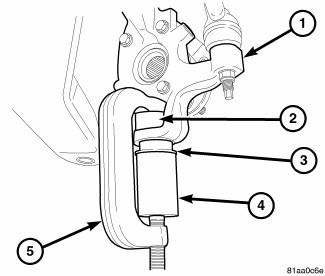 Fig. 25: Ball Joint Installation
1. Install Installer (2), Special Tool 9964-1, and Installer (4), Special Tool 9964-2 on Remover/Installer (5), Special Tool 8441-1. Place a new ball joint (stem down) into Installer 9964-2.
2. Position the assembly onto the knuckle as shown in illustration, then hand tighten the screw-drive.
3. Using hand-tools, tighten the screw-drive forcing the ball joint (3) into the knuckle (1). Continue to install the ball joint until the flange on the ball joint comes to a stop against the bottom of the knuckle.
4. Loosen the screw-drive and remove the tools.
5. Install a NEW snap-ring into the groove in the ball joint using a drift punch.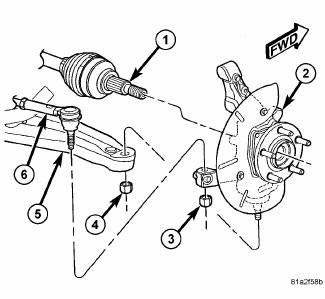 Fig. 26: Front Knuckle Mounting
6. Slide the hub and bearing in the knuckle (2) onto the splines of the half shaft outer C/V joint (1).
7. Insert the lower ball joint stud into the mounting hole in the lower control arm.
8. Install a NEW ball joint stud nut (4). Tighten the nut to 95 N.m (70 ft. lbs.).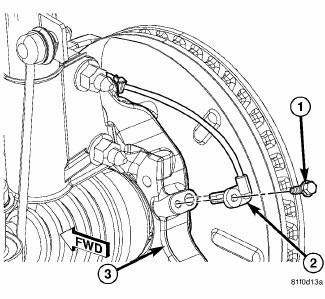 Fig. 27: Front Wheel Speed Sensor
9. Install the wheel speed sensor head (2) into the knuckle (3). Install the mounting screw (1) and tighten it to 12 N.m (106 in. lbs.).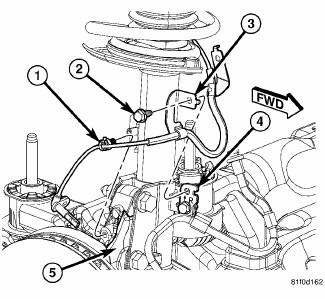 Fig. 28: Wheel Speed Sensor Routing & Brake Flex Hose Bracket
10. Install the routing clip (1) securing the wheel speed sensor cable to the knuckle (5).
11. Install the brake rotor, disc brake caliper and adapter.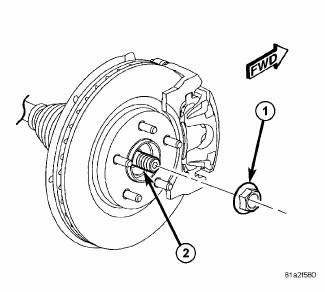 Fig. 29: View Of Hub Nut & Axle Shaft
NOTE: Always install a new hub nut. The original hub nut is one-time use only and should be discarded when removed.
12. Clean all foreign matter from the threads of the half shaft outer C/V joint.
13. Install the hub nut (1) on the end of the half shaft (2) and snug it.
14. While a helper applies the brakes to keep the hub from rotating, tighten the hub nut (3) to 132 N.m (97 ft.lbs.).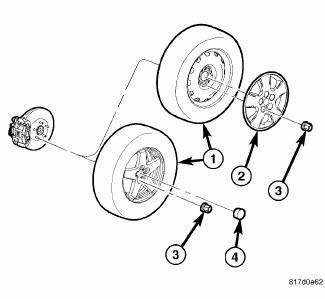 Fig. 30: TIRE AND WHEEL MOUNTING
15. Install the tire and wheel assembly (1). Install and tighten wheel mounting nuts (3) to 135 N.m (100 ft. lbs.).
16. Lower the vehicle.
17. Perform wheel alignment as necessary.