Dodge Journey: Description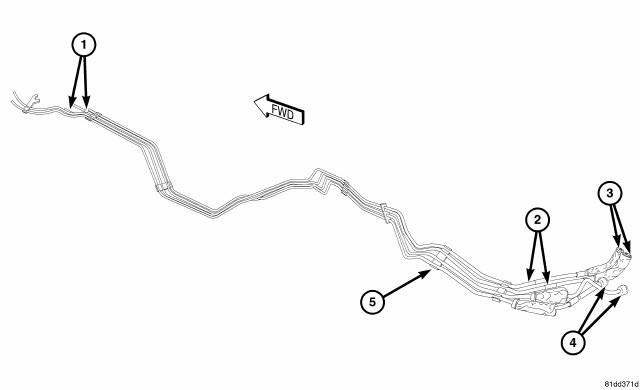 Fig. 297: Underbody Lines
Models equipped with the rear heating-A/C system use metal lines attached to the vehicle underbody to carry refrigerant and engine coolant to and from the rear A/C evaporator and heater core. The underbody A/C lines (1) are connected to the front A/C suction and liquid lines and to the rear A/C expansion valve extension tubes using nut type fittings (4) and O-ring seals. The underbody heater lines (2) are connected to the front heater hoses and the rear heater core using spring type clamps (3). The underbody lines are retained to the vehicle by seven plastic mounting brackets (5).
NOTE: Replacement of the refrigerant line O-ring seals is required anytime an underbody refrigerant line is disconnected. Failure to replace the rubber O-ring seals may result in a refrigerant system leak.
The underbody lines have no serviceable parts except for the refrigerant line rubber O-ring seals and metal spring clamps. The O-ring seals used on the refrigerant line connections are made from a special type of rubber not affected by R-134a refrigerant. The O-ring seals must be replaced whenever the underbody refrigerant lines are disconnected.
The underbody lines cannot be repaired and must be replaced if leaking or damaged.