Dodge Journey: Pipe, exhaust
REMOVAL
2.7L/3.5L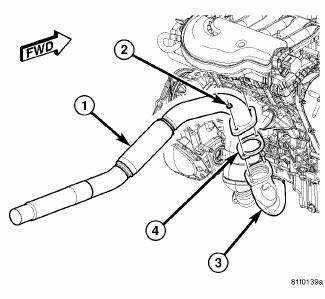 Fig. 20: Exhaust Pipe - 2.7L/3.5L
- EXHAUST PIPE
- NUTS
- CROSS UNDER PIPE
- GASKET
WARNING: The normal operating temperature of the exhaust system is very high.

Never attempt to service any part of the exhaust system until it is cooled.

Special care should be taken when working near the catalytic converter.

The temperature of the converter rises to a high level after a short period of engine operation time.
1. Raise vehicle on hoist.
2. Apply penetrating oil to exhaust pipe band clamp, and fasteners (2).
3. Loosen band clamp for resonator/pipe assembly.
4. Remove exhaust pipe mounting nuts (2) at cross under pipe (3).
5. Remove exhaust pipe (1) and gasket from vehicle.
6. Discard band clamp.
INSTALLATION
2.7L/3.5L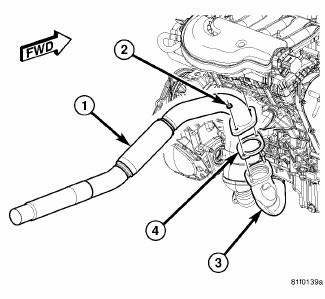 Fig. 21: Exhaust Pipe - 2.7L/3.5L
- EXHAUST PIPE
- NUTS
- CROSS UNDER PIPE
- GASKET
1. Position exhaust pipe (1) into muffler/resonator assembly.
2. Position exhaust pipe onto cross over pipe.
3. Install exhaust pipe (1) to cross over pipe nuts. Tighten to 28 N.m (250 in. lbs.).
4. Align exhaust pipe (1) and resonator/muffler pipe assembly to maintain position and proper clearance with underbody parts. All support isolators should have equal load on them. Tighten fasteners attaching exhaust pipe (1) to cross-under pipe (3) to 28 N.m (21 ft. lbs.).
5. Install new band clamp. Tighten band clamp to 54 N.m (40 ft. lbs.).
6. Lower vehicle.
7. Start the engine and inspect for exhaust leaks. Repair exhaust leaks as necessary.
8. Check the exhaust system for contact with the body panels. Make the necessary adjustments, if needed.