Dodge Journey: Filter, engine oil
Removal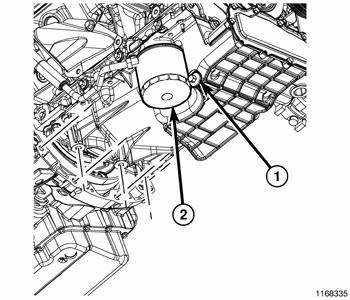 Fig. 256: Oil Filter & Drain Plug
1. Raise vehicle on hoist.
2. Position a suitable collecting container under oil filter location.
3. Remove oil filter (2) using a suitable oil filter wrench. Dispose of oil filter following environmental guidelines.
Installation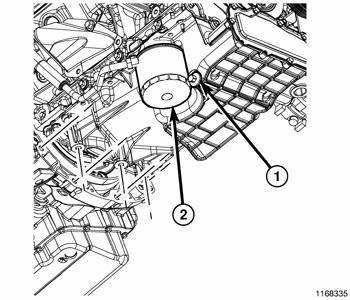 Fig. 257: Oil Filter & Drain Plug
1. Wipe filter base clean, then inspect gasket sealing surface.
2. Lubricate gasket of new filter with clean engine oil.
3. Install oil filter (2) and tighten to 16 N.m (12 ft. lbs.) after gasket contacts base. Use filter wrench if necessary.
4. Fill crankcase with proper engine oil to correct level if drained. Start engine and check for leaks.