Dodge Journey: Description, Diagnosis and Testing
DESCRIPTION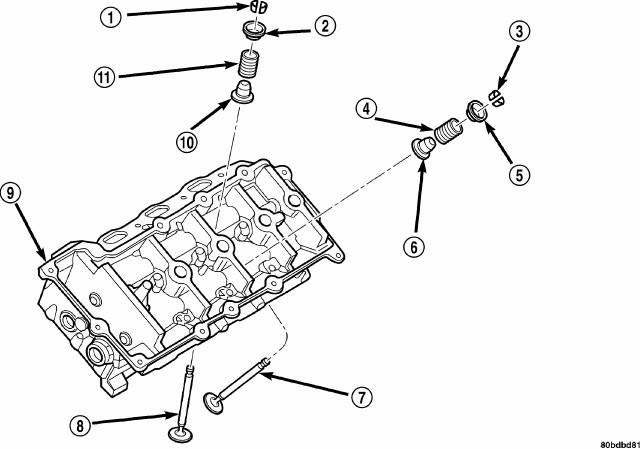 Fig. 91: Cylinder Head, Valves & Springs
- VALVE KEEPER
- SPRING RETAINER
- VALVE KEEPER
- VALVE SPRING-EXHAUST
- SPRING RETAINER
- VALVE STEM SEAL
- VALVE-EXHAUST
- VALVE-INTAKE
- CYLINDER HEAD
- VALVE STEM SEAL
- VALVE SPRING-INTAKE
The cylinder heads are made of an aluminum alloy. The cylinder head features four valves (8) per cylinder with pressed in powdered metal valve guides. The cylinder heads provide enclosures for the timing chain drive, necessitating a unique right and left cylinder head.
DIAGNOSIS AND TESTING
CYLINDER HEAD GASKET
A cylinder head gasket leak can be located between adjacent cylinders or between a cylinder and the adjacent water jacket.
Possible indications of the cylinder head gasket leaking between adjacent cylinders are:
Loss of engine power
Engine misfiring
Poor fuel economy
Possible indications of the cylinder head gasket leaking between a cylinder and an adjacent water jacket are:
Engine overheating
Loss of coolant
Excessive steam (white smoke) emitting from exhaust
Coolant foaming
CYLINDER-TO-CYLINDER LEAKAGE TEST
To determine if an engine cylinder head gasket is leaking between adjacent cylinders, follow the procedures in Cylinder Compression Pressure Test. An engine cylinder head gasket leaking between adjacent cylinders will result in approximately a 50-70% reduction in compression pressure.
CYLINDER-TO-WATER JACKET LEAKAGE TEST
WARNING: USE EXTREME CAUTION WHEN THE ENGINE IS OPERATING WITH COOLANT PRESSURE CAP REMOVED.
VISUAL TEST METHOD
With the engine cool, remove the coolant pressure cap. Start the engine and allow it to warm up until thermostat opens.
If a large combustion/compression pressure leak exists, bubbles will be visible in the coolant.
COOLING SYSTEM TESTER METHOD
WARNING: WITH COOLING SYSTEM TESTER IN PLACE, PRESSURE WILL BUILD UP FAST. EXCESSIVE PRESSURE BUILT UP, BY CONTINUOUS ENGINE OPERATION, MUST BE RELEASED TO A SAFE PRESSURE POINT.

NEVER PERMIT PRESSURE TO EXCEED 138 kPa (20 psi).
Install Cooling System Tester 7700 or equivalent to pressure cap neck. Start the engine and observe the tester's pressure gauge. If gauge pulsates with every power stroke of a cylinder a combustion pressure leak is evident.
CHEMICAL TEST METHOD
Combustion leaks into the cooling system can also be checked by using Bloc-Chek Kit C-3685-A or equivalent.
Perform test following the procedures supplied with the tool kit.