Dodge Journey: Removal
1. Raise and support the vehicle.
NOTE: Perform 2 through 5 on each side of the vehicle to complete pad set removal.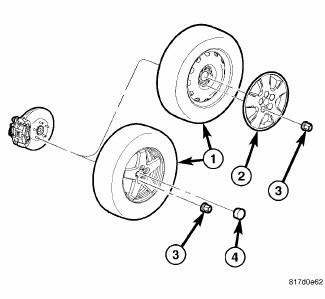 Fig. 117: TIRE AND WHEEL MOUNTING
2. Remove the wheel mounting nuts (3), then the tire and wheel assembly (1).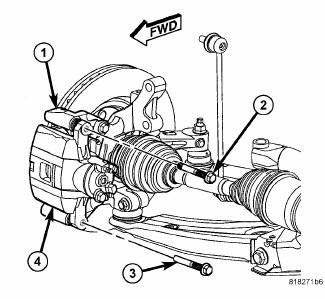 Fig. 118: CALIPER GUIDE PIN BOLTS
CAUTION: When removing or installing a caliper guide pin bolt, it is necessary to hold the guide pin stationary while turning the bolt. Hold the guide pin stationary using a wrench placed upon the pin's hex-shaped head.
3. Remove the two brake caliper guide pin bolts (2, 3).
4. Remove the disc brake caliper (4) from the disc brake adapter bracket (1) and hang it out of the way using wire or a bungee cord. Use care not to overextend the brake hose when doing this.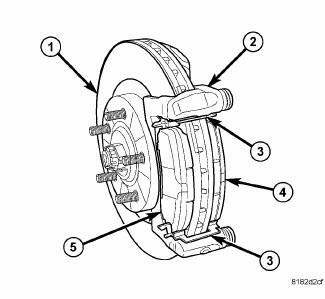 Fig. 119: FRONT BRAKE PADS
5. Remove the brake pads (4, 5) from the caliper adapter bracket (2).
CLEANING
WARNING: Chrysler LLC does not manufacture any vehicles or replacement parts that contain asbestos. Aftermarket products may or may not contain asbestos. Refer to aftermarket product packaging for product information.

Whether the product contains asbestos or not, dust and dirt can accumulate on brake parts during normal use. Follow practices prescribed by appropriate regulations for the handling, processing and disposing of dust and debris.
INSPECTION
Visually inspect brake pads for uneven lining wear. Also inspect for excessive lining deterioration. Check the clearance between the tips of the wear indicators (if equipped) on the pads and the brake rotors.
If a visual inspection does not adequately determine the condition of the lining, a physical check will be necessary. To check the amount of lining wear, remove the disc brake pads from the vehicle.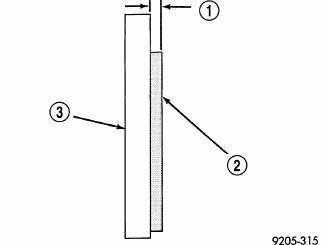 Fig. 120: Brake pad Friction Material Thickness Measurement
- BRAKE SHOE ASSEMBLY FRICTION MATERIAL THICKNESS IS TO BE MEASURED AT THE THINNEST POINT.
- BRAKE Shoe ASSEMBLY FRICTION MATERIAL
- BRAKE SHOE ASSEMBLY BACKING PLATE
Measure brake pad minimum thickness (1). Brake pads must be replaced when usable material on a brake pad lining (2) measured at its thinnest point measures one millimeter (0.04 inches) or less.
If a brake pad fails inspection, replace both disc brake pads (inboard and outboard) at each caliper. It is also necessary to replace the pads on the opposite side of the vehicle as well as the pads failing inspection to maintain proper braking characteristics.
If the brake pad assemblies do not require replacement, be sure to reinstall the brake pads in the original position they were removed from.
NOTE: It is important to inspect both front and rear brake pads during the same inspection.